Sleepy Shloopa (born Shloopart Shlop October 27, 1988) is a very popular Lofi Hip Hop artist. His most popular songs are Floppin' and Livin', Relax, Sogga, Relax and Ending it All. He released his debut album in 2018 and his follow up in 2020. He has a medical condition, making it impossible for him not to have pillow and blanket.
Personal Life
[
]
Shloopa was born in Sogland, where he lived with his parents untill 2017, then he moved to Soggapore. He has a really big appreciation for all Soggas, because his father - Sergiusz Sogarcz was a Sogga himself. His true father died when he was only 3, so his mom worked all day and all night to get enough money. His life changed when his mom met his new father - he was very kind, and also rich. They moved to capital of Sogland and lived in a giant mansion.Hes mother was a Floppa.It is unknown who his mother is

Music Career
[
]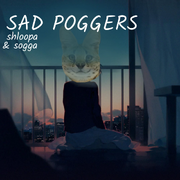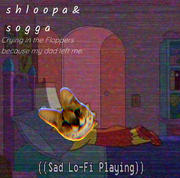 Collaboration with Crip Zabloing
[
]
On october 29, 2013, Crip Zabloing collabed and made a song called "The Five Stages of Grief" it is not part of any album though, and you have to get it through Tetflop, but it is very rare and most copies sold on tetflop are fake, and real ones are very rare, however, thanks to floptube, you can listen to the song there. He collabed with Crip Zabloing to make some more music until 2017 when Crip Zabloing died.
Early Work
[
]
Shloopart loved Big Floppa's music, and he was a big motivation for Shlop to make music. He made a track for Big Floppa that he was supposed to sing to in his second album, hovewer the album was never released. This inspired Shloopa to make his own songs. He started with Pop Music, but his singing skills were really bad.
Lofi & Collaboration with Sogga
[
]
After failing to find sucess in pop, Shloopart decided to make Sad Lofi type of music. The singer in those songs was usually Sogga - His minecraft girlfriend. In 2018. quickly after the release of his first album that he made with Sogga - Sad Poggers he started to get popular. The most popular song in the album - Relax, Sogga, Relax started getting a lot of recognition online. Although most of the reviews appreciated his songs, a lot of people named him one hit artist, which he disproved after releasing his second album - Crying in the Floppers because my dad left me. Every single song was called by reviewers - ''Absolute Perfection". This album was even more popular, and his most popular songs come from there - Floppin' and Livin' and Ending it All. He is working right now on his third album, which will be all instrumental with no Sogga
He was present in most of "Floppodcasts" - Podcasts made by Justin and Baweley.
All of his songs
[
]
The Five Stages of Grief (with Crip Zabloing)
Sad Poggers (2018)
Relax, Sogga Relax
Everything is Gone
Alone in the Flop
Sad Poggers
Not Happy in the Sogga Saturday
Feel Relaxed inc.
The day just ended
Crying in the Floppers because my dad left me (2020)
My dad just died and I can't count to three.
Crying in the Floppers because my dad left me
My mute friend with a crowbar
Razor blade at the dusk
Floppin' and Livin'
Ending it All.