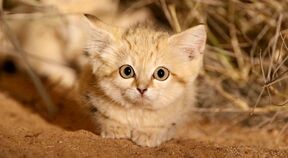 Sandy Shoppa (1997-) also knows as sandy, is a close friend Sogga and Wild Noppa (and Big Floppa during his lifetime), and is one of the last members of the Shoppa Clan along with her mother,Sarah Shoppa, father and two younger brothers.
She owns a shop where she sells miscellaneous wares that she finds on her travels.
Life
[
]
Sandy was born to a family of nomads living in the Shoppania Desert. When she was 16 she left her family to live her life as a traveler and fulfill her dream of traveling the world. She often goes to visit her family in the Shoppania. When she was 17, she was a well known and liked merchant all around Shoppania.
When she was 17 she met Big Floppa, they became good friends. When Floppa died, Shoppa carved a small Floppa statue which she keeps in her shop every day so she never forgets him.
Career
[
]
Sandy Started her career as a traveling merchant when she was only 16. By the age of 17 her business was flourishing and she was well known in the Shoppanian desert. But in 2019 her sales dropped and she went into debt. However, Floppa saved her business by promoting her business at an event.