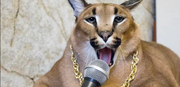 Flop Fo No Hoe is the debut studio album by rapper Big Floppa, released on November 24, 2014. It was his only studio release during his lifetime; everything else is either live, a compilation, or released posthumously. It is 7 tracks long and contains his biggest hit, "Foppa Fo No Hoe".
Background
[
]
All tracks were produced by Floppa's half-brother Justin. Many tracks also featured guest producers. The album was written and recorded over a period of three years, from 2011 to 2014. Floppa's long-time homie Sogga sings backing vocals on the album and is featured on the title track. Mike wrote some of the album's lyrics.
Reception
[
]
Flop Fo No Hoe received widespread critical acclaim. The album was given a 10/10 by popular music journalist and critic Marsel.
Controversy
[
]
The track "Bingus Diss" caused the album to be banned in Bingustan due to its lyrics containing a negative view of the country's leader, Bingus. The hidden track "Nation" is Floppa giving a thirty-minute speech criticizing the actions of the Bingustani government. Conspiracy theories have surfaced stating that the track includes a premonition of Floppa's death in the lyric "None fo' Bingus, sixteen shots".

Justin asked Daft Flop if he could sample their work for the song "Emotion". The band initially agreed, but after hearing the result they thought it was stupid and threatened to sue. This lead to the track being hidden.
Tracklist
[
]
Big Floppa
Young Choppa
Bingus Diss
Floppin On Da Haters
Floppa Friday
The Last Flop
Nation (hidden track)
Emotion (hidden track)

Note: There's a four minutes and five seconds of silence after "The Last Flop" before "Nation" starts playing.
Leaked Beats
[
]
On December 16, 2013 a beat for one of the songs and a album cover for the album was leaked

The leak first surfaced on youtube, unfortunately the original was lost but a someone reuploaded it and can be listened on youtube from this link.
https://www.youtube.com/watch?v=fiUlw1vqJB4