Description
[
]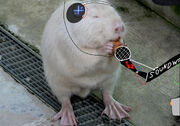 Nutrienno Balzambloing Yetersteæn. Its a Nutria rapper that was born in 1993. His most famous songs were: "Infinit Carrot"and "Beatmix Vol 1 & 2". He started his musical career in 2010 by releasing "nutrie's groove". It was spreaded to small music stores. His album has mixed ratings. He was famous after releasing The Beatmix in 2017. He lives in villa in Floprida, Miami. He has his studio in New Rinkus also. Basically Floprida is his weekend house, and his actual house located on Zabloing Street 72, 18 floor.
The Flopartu(Tartu) Incident
[
]
He was in his car going to FLopartu when it did snow horribly, basically, it was blizzard. He managed to get in hotel but in result he flew away to lake Peipus. He was found in the lake and hospitalized, resulting several traumas.